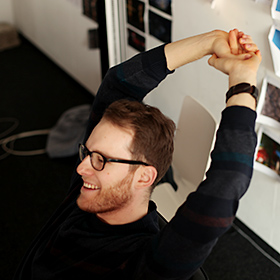 Creative & Art Director, Compositor, 3D Generalist, App Delevoper
Freelance 3D-Artist located in Frankfurt
I am a Creative & Art Director, Compositor, 3D Generalist & App Developer, have 7+ years of industry experience and directed Award-Winning animated shorts.
I direct & create 3D Animated Commercials and Short Films from concept over rendering & compositing to final cut and output, help build and manage render-farms, know my way around developing Mobile Apps & Games in C#/Unity3D or Flash /AS3 & build Websites using a multitude of scipting languages and tools available.
Technical Skills
Cinema 4D, Blender
VRAY, Redshift3D, Octane, Arnold
CAD Import/Export, Converting-Pipeline in all popular Formats
After Effects, Premiere Pro, Illustrator, InDesign, Photoshop
Renderfarm Development & Management, Thinkbox Deadline
Motion Capturing Setup & Coordination, Motion Builder, Optitrack Motive
App Dev IOS/Android Unity3D/C#, Starling, AS3/Flash/Animate CC, Memory & Performance Optimization
HTML/CSS/PHP/mySQL/JS/typo3
CV
2017 – Present: Freelance 3D Artist & Motion Designer based in Frankfurt
2012 – 2017: Director, Compositor, Senior 3D Generalist at Pixcube Animation Studio
2011 – 2012: 3D Animation & Compositing Lecturer at hKDM Film School
2012 – 2012: 3D Software Lecturer at hKDM Film School
2011 – 2012: Educational Software Development Tutor at University of Freiburg
2010 – 2011: 3D Animation and Design Intern at Sehsucht
2009 – 2010: Film & Animation teaching assistant at Freiburg College of Graphics and Fine Arts
2009 – 2011: Studied Screen & Webdesign at hKDM Film School, Graduated 2011
Awards
In addition to 2 Vimeo Staff-Picks, my Animated Short Films have been shown and awarded at several Festivals including "Down the Rabbit Hole 2016 Netherlands", Siggraph CAF 2012 Los Angeles", "Motion Festival Cyprus 2012″, Suzanne Animation Festival Amsterdam 2011", "Anibar Kosovo 2012", "Film Leben Festival Ilmenau 2012", "CINANIMA Portugal 2012".